We are delighted to announce the triumphant end of C&C's lychee export season to Japan in June and July! 🇯🇵✈️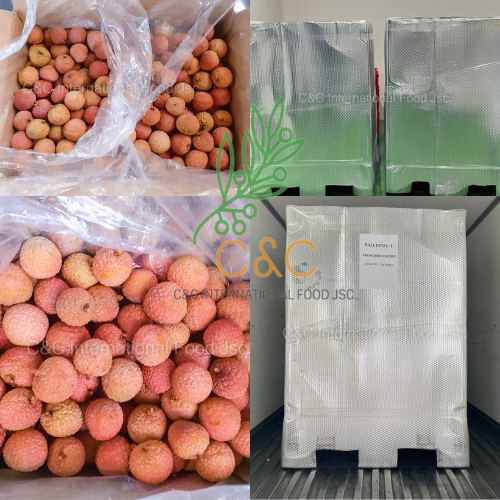 Our premium lychees, sourced from Hai Duong and Bac Giang, captured the hearts and taste buds of our Japanese friends. 100% of our products were shipped by air, ensuring the freshness and quality that our customers deserve.
1. Essence of Quality: Our lychee export season to Japan was built on unwavering quality. From selecting the finest lychees to implementing strict quality control, we ensured that only the best reached the Japanese market. The superior taste and texture of our lychees resonated with discerning Japanese consumers.
2. Nurturing Partnerships: Collaboration has been key to our success. We forged strong partnerships with local farmers, ensuring sustainable sourcing and high agricultural standards. By working closely with growers, we fostered a sense of community and responsibility, resulting in exceptional lychee harvests.
3. Meeting Market Demands: Understanding Japanese market preferences was vital. We tailored packaging, branding, and marketing to align with Japanese expectations. By providing a seamless lychee experience, we captivated the Japanese palate and solidified our position as a trusted supplier.
4. Ensuring Smooth Logistics: Efficient logistics were crucial for a successful journey from our orchards to Japanese stores. Our dedicated team ensured timely harvesting, proper packaging, and streamlined transportation. By leveraging our export expertise, we overcame challenges and delivered prime lychees.
We extend our heartfelt gratitude to our dedicated team, hardworking farmers, and loyal customers for their support. Looking ahead, our goal for the upcoming season is to explore exporting by sea to neighboring countries such as Indonesia, Philippines, Singapore, Hong Kong, Korea, and more. By utilizing sea transportation, we aim to bring the delectable taste of our lychees to a wider audience, sharing the joy of this exquisite fruit with the world.
🌎 Stay tuned for updates as we embark on new adventures and continue our mission of delivering the finest fruits from Vietnam to the world.
#Lychee #Export #FreshFruits #PremiumFruits #VietnamToJapan #C&CCompany #ライチ #輸出 #荔枝 #出口 #新鮮なフルーツ #新鲜水果